WaterSoftenerPart.com was formed in 2022. Our main focus is to provide the end-user with those hard-to-find water treatment parts that will keep your water treatment equipment running efficiently and effectively. We know that consumers want prompt service and dependable products, so we stock every item listed on-site and offer overnight delivery to most areas.
The Watersoftnerpart.com team has over 80 years of combined experience in the water purification industry, employing members who are Certified CWS-5 (highest level) with the Water Quality Association. In addition, our team members have been published authors of technical articles in the Water Purification Field. They have done work for some of the major sporting arenas in the Detroit area. Watersoftenerparts.com has the experience and knowledge to help you find the water softening and water filtration systems and products to meet your individual needs.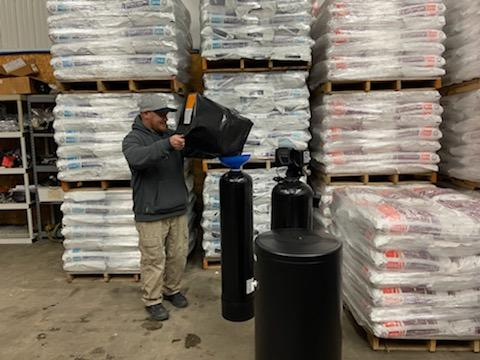 Frequently Asked Questions
How often should a taste/odor cartridge be changed?
Taste/odor cartridges should be changed when the off taste or odor returns, when a drop in water pressure (from dirt/rust/etc) is noticed, or every three to four months, whichever comes first.
Will a dirt/rust filter stop the red/brown stains on the fixtures and laundry?
Water that appears to be clean but causes stains when allowed to sit, such as in the toilet or where hot water and chlorine bleach are used, contains dissolved iron. Because this iron is not in a particle form, but dissolved into the water, like salt is in the sea water, treatment other than a particle filter is needed.
Can lead be removed from the whole house?
The greatest risk from lead is through ingestion. It was only 1987 that the use of lead solder was prohibited. In any home built before that time, lead could be reintroduced into the water after a whole-house lead removal system filter. In addition, the chemical reaction that takes place to remove lead takes some time. The high flow rates required for whole-house removal makes lead impractical to treat for the whole-house. Since lead poses the greatest risk when ingested, it makes sense to concentrate treatment at the point of use, such as the kitchen.
Can filter housings be installed horizontally or upside down?
Our filter housings will operate in any orientation. However, for any position other that the vertical and upright, drainage of the filter housing and proper seating of the cartridge have to be considered when changing cartridges.
How do I know I need a filter?
Your public water authority does the best it can to ensure that your water is free of disease-causing pathogens and sediment. However, it cannot ensure that your water is free of sediment after passing through the series distribution lines to reach your home. Virtually all private well water supplies contain sediment. Therefore, a dirt/rust filter is advisable on the incoming water line. Dirt/rust filter can protect washers and seals from premature wear, it can prevent aerators and valves from plugging and keep your hot water heater from collecting excessive sediment.
How do I know what size filter to use?
Call us for more accurate sizing. Our expert technicians can properly size and recommend the best options for your needs.
How can I remove hardness from my water without using a softener?
We offer several filter products that incorporate a patented ingredient known as Scale Stopper. The Scale Stopper cartridges utilize two important mechanisms to inhibit scale and corrosion: one that prevents the scale from forming, and one that treats the surface of the piping to prevent the negative effects of hard water scaling or corrosive water. Our Scale and Corrosion Cartridges also incorporate a graded density pre-filter for long life, premium performance dirt/rust removal.
How often should a dirt/rust filter be changed?
Dirt/rust cartridges should be changed when a drop in water pressure is noticed, or every three to four months, whichever comes first.
How do I treat my water?
There are a wide variety of water treatments available dependent on the water issues you have. We provide water treatment solutions for everything from iron removal to acid neutralizing. Understanding the cause of your water issue will help you determine the correct water treatment plan. We offer free water testing, send us a sample of your water and we will give provide you with the results and suggested water treatments.
How do water softeners work?
Water softeners remove hardness from water by using a process known as ion exchange. The water softening process includes six different cycles: service, backwash, brine draw, slow rinse, fast rinse, and refill.
Do you offer world wide shipping?
Currently we do not.
Do you offer any specials?
We offer all of our products at great prices, but we frequently offer specials to our customers.
How fast will my order ship?
Most orders will be shipped the same day or next. Monday through Friday. Orders placed on Saturday or Sunday will be shipped the next Business day. Orders placed after 2 PM will be shipped the following day.
Where will my order ship from?
We are located in Michigan but we have over 20 warehouses ready and willing to ship throughout the lower 50 states.